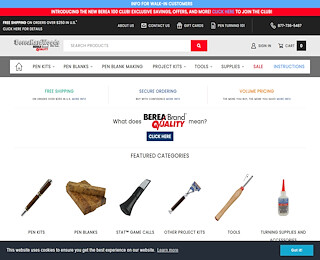 Your Guide For Pen Kits Plating Options
There is a broad range of plating options available when it comes pen kits. Making the decision regarding which finish to choose for a pen can prove difficult. It can depend on the kind of wood used, consumer preferences, and pricing to name a few. This guide is designed to help you learn more about the options available. Read on and find out more.
Plating Technique
The first determinant of quality is usually how the plating is completed at the manufacturing plant. However, it is unfortunate, that this information is rarely available. The cheapest pen kits are plated with the tumbled plating method, thus resulting in a thin, uneven and inferior coating. The ideal method is the rack technique where the parts are separated in plating resulting in a more consistent and highly durable coating. Most pen kits sold in the US are plated in this way.
Plating Options
There are countless choices available regarding the plating type to choose for a pen kit. Beyond the choice of color, you have to consider durability, if you will regularly use the pen. The following plating options are listed based on their estimated durability. Note that the thickness of a plating option can vary depending on its manufacturer. This should be a guide for determining which plating option to consider.
Gold
Gold is still the most commonly sold plating for kits. Note that the quality of the gold plating may vary considerably from poor to excellent, it all depends on how the plating is completed and the combination of gold as well as the other additives used during the plating. There is also a wide range in color for gold plating. Note that gold is naturally a very soft metal. Gold plating regardless of its quality will wear off over time.
Rhodium
Rhodium is derived from the platinum family of germs. It is arguably one of the rarest precious metals used to plate pen components. Rhodium offers supreme durability, as well as brilliance. It conveys a wealthy opulence to any pen. Rhodium offers the ideal resistance to tarnish and corrosion found in platinum metals. It is strongly resistant to abrasion and incidental scratching.
Titanium
Titanium plated pen options have become popular in recent years due to a number of reasons. Titanium plated pens are available in gold and black. This metal offers a less expensive choice when it comes to kits plated with valuable metals. As expected, titanium-plating much like other options offers superior scratch and wear resistance compared to the traditional gold pen plating.
Chrome
Chrome plated kits are an ideal option to consider for people looking for economy and durability with less expense. Offering a bright silver white color, chrome plated pens offer a good alternative for pens that will be used heavily such as daily use writing pens and key rings.
Copper
Copper comes with a unique range of elegance. Although it is naturally a soft metal, copper's vibrant color conveys visual warmth if it is used as a pen plating option. To increase its wear and tarnish resistance, pen kits should feature a smooth epoxy finish.
The Berea Hardwoods Co. Inc.
2168988956
18745 Sheldon Rd
Middleburg Hts
OH
44130
View Larger Map
We welcome your comments!