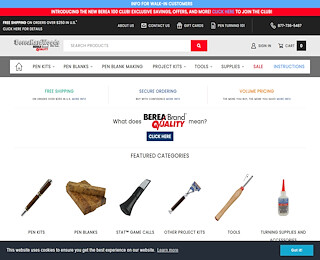 Pen turning is one of the most satisfying and interesting hobbies as well as a way to produce sellable handmade items. There is some basic equipment that you will need to get started. You need to have a pen kit, pen blanks, mandrel with bushings, glue, pen mill or sander, file, turning tools, sandpaper, clamps, hand screw, drill press or table saw. In addition, you'll need some pen blanks.
Pen Turning for Fun and Profit
It is fun to get started with pen turning. Once you learn the basic steps you will be able to produce some exquisite pens and pencils. There are many options available to make writing utensils. Pen blanks are made of the material of your choice. They are available in a wide range of materials and colors. Wood blanks are ideal for carving and other projects while acrylic is a durable and colorful choice. When you begin the project you'll determine the length and width of the blank you need for the specific pen you are designing.
If you are new to the process of pen turning you will find that it is easy when you choose a kit. A kit contains the parts needed to create a specific type of pen. Once you become more proficient you will be able to make pens of many different designs. Then you will be able to choose between a wide selection of blanks.
Types of Pen Blanks
Blanks come in many different materials and colors so you can choose the exact option that you prefer. You will be able to choose from acrylic blanks in many colors as well as a variety of special designs such as waves, voodoo, x and o, stripes and many more. These let you get as creative as you want to make pens that are unique and special. In addition to acetate you may also choose other materials. Some of these include natural wood, Invisavue, stabilized wood and inlay pen kits. There are blanks to suit everyone's needs.
Wooden Blanks
Wood is a wonderful medium for pen-making. Different kinds of wood can result in very unique and beautiful pieces. Genuine wood blanks are available in exotic options that include Honduras rosewood, Olivewood, Afzalia lay, canary wood, zebra wood, Bahia rosewood, ebony and leopard wood among others. Each type of wood provides different patterns that are each distinctive.
In addition, you will find genuine aged whiskey barrel blanks. These come from actual barrels and make very unique pens. There are also stabilized woods available for making pens. Some of these choices include buckeye burl and black ash. Dyed box elder comes in a selection of different colors such as red, turquoise, green, purple, blue, wine, brown and clear. Wood blanks are used to make pens that have a natural appearance that is very popular. Choose several types to try them so you can choose the ones that you prefer, or make some from each type of wood.
When you are looking for pen making supplies, look no further than The Berea Hardwoods Co, Inc. for all your needs.
Pen Blanks