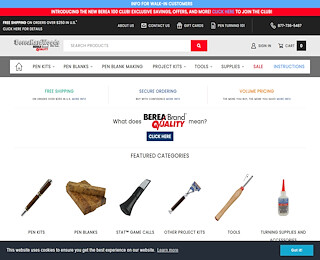 Pen making is one of the most creative and interesting hobbies possible. Getting started in pen making will provide you with a lifetime of enjoyment. You can make pens for your own use and to give as beautiful gifts for others. Some people become so interested with pen making that they start making pens to sell at craft shows and on online homemade sites. Once you get proficient you'll want to make pens using all types of materials and in many different styles.
Basic Pen Making Kits
Our basic pen making kits are among the best on the market. We provide you with the parts needed to create a pen of your design choice. We have many different kits so you can choose the one that best fits your skill level. When choosing a kit you can pick from the type of pen as well as the various types of materials that you can use to make it.
Choose from a variety of options so you can create a pen that is as unique as you are. We offer ballpoint pen, rollerball pen, fountain pen, pencil, stylus, bullet pen kits and more. You will find a great selection of choices at excellent prices. You can order just one or more. Orders of $100 are shipped for free!
Our kits contain high quality materials and give you the parts you need to create the pen according to instructions. We pride ourselves in being available for our customers whenever they have any questions about our products. We take care to create kits that use quality materials that create great-looking results every time. If you have any questions about which type of kit you should purchase you can speak with one of our experienced pen making experts to assist you in making your choice.
Get Creative
Our exclusive kits are designed for every skill level so you can choose the style pen that you are most comfortable making. The most basic and most popular style pen for beginners to start with is the slimline. This style is easy to make yet it gives you a very beautiful and professional-looking result. Even those who are just starting out in this fun hobby will find these kits are easy to make.
Some of our top selling pen making kits include the lever action ballpoint pen in antique brass, fireman's ballpoint pen in chrome with gunmetal, lever action ballpoint in antique nickel and our exclusive "American Pride" lever action ballpoint pen in antique brass. These and many other choices are available on our website.
At Berea Hardwoods we have more than 25 years of experience designing and creating top quality kits for woodworkers. Our skilled and experienced team of representatives offer outstanding service and provide technical support to help you along the way. If you ever have any questions or concerns we are here to support you every step of the way. Contact The Berea Hardwood Co. Inc. to order your next pen making kit today.
The Berea Hardwoods Co. Inc.
2168988956
18745 Sheldon Rd, Middleburg Hts, OH 44130
View Larger Map